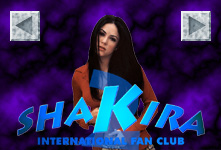 The Shakira2K Webring is Coming Soon!

About the Club!
The Shakira2K International Fan Club is an unofficial fan-organized club. It is not in any way affiliated with Shakira, Sony Music, Estefan Enterprises, or Cresent Moon Studios.
Its primary purpose is to allow fans from all over the world to meet, chat, and hear about the latest Shakira news. Currently it is almost completely in English, but hopefully that would change with your help! Members would occasionally receive free merchandise, but that's just an added bonus!
Membership is free, and the only requirement is that you love Shakira and her music! It also helps to have regular access to the Internet!
The club was created in October of 1999. We now have around 35 members!
To officially join the club,
1) Join the Shakira2K Mailing List!
The list is our main forum for discussions and allow members to communicate!
Note: You must first setup a free account at Onelist and then join the list.
2) Send me an e-mail with some basic info about yourself!
Things to include would be your name / screen name, e-mail address, URL, ICQ number, age, where you're from, mailing address (to receive your membership card and welcome paks), how / why you became a fan, and if you've been so lucky, how / where you met Shakira!

Created, December 30, 1999!
[Main] [News] [Articles] [Biography] [Members] [Links] [Audio] [Lyrics]
[Multimedia] [Photos] [Graphics] [Merchanidise] [Fan Club] [Contact Shakira]